Main Content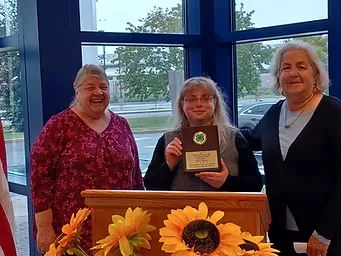 Melissa's Speech
First I would like to thank you for this honor, and for choosing me for Alumni of the Year.
It's pretty obvious that I really love 4-H… I've stuck with it for all these years, and really can't remember a time when I wasn't involved with it in some capacity. When I was really little and I went to the Fair, I remember my brother Patrick, my sister Amy, and I just loved looking at all of the different animals and wanting some day to be a part of it, and to bring our pets there for everyone to see. A few years laters we all joined 4-H and did enter our many animals, plants, and crafts. For several years, we accumulated quite a collection of various brightly colored ribbons, which we still have today. 
I started in 4-H around 3rd grade and joined ThunderHoofs because my friend Sarah Sakowski was already a member. Mrs. Whitehouse was our leader for a few years, and then passed the club on to Mrs. McKittrick. I stayed in ThunderHoofs, but I followed Mrs. Whitehouse over to another club she started, Animal Science. I stayed in both clubs until I aged out, and then became co-leader in 2 both clubs alongside the two ladies who were my former leaders and who taught me so much. I love them both. They are amazing and were always there for me whether I needed help, had a question, or a problem. I could never imagine knowing what to do with all my animals without their help, and believe me I had a lot all different kinds of animals, from gerbils to bunnies and everything in between. They were always helpful, patient and got me through a lot of difficult times. They are the best and I can't thank them enough.
After almost 25 years, Mrs. Whitehouse still can't get rid of me, and is probably stuck with me for life!
I have so many good memories after all these years. Of course the Fair each year was filled with working Popcorn, Dunk Tank, Food Booth, Herdsmanship and later the Alumni Booth, and always losing your voice from yelling " Popcorn only one dollar, support the 4-H"; "3 balls for one dollar, Dunk a 4-h'er"; and " Take a chance to win the Beautiful Quilt – only a dollar" .
One Fair in particular sticks out in my mind. My friend Sarah was Ambassador that year and wore her green sash and tiara everyday. My mom got some wide pink ribbon and made me a sash that read :" Ambassador's Best Friend" which I wore along with my own tiara, and Sarah and I went everywhere together. At first Ellen Williams who was the County Agent at the time, was really confused as were Virginia and Kelly Valente, but everyone loved it because it was so original. Nobody had ever done anything like it before, and it was pretty funny. People stopped us and laughted and asked us questions. We had a good time! 
In my final year as a 4-H'er I got 2 awards that mean a lot to me. First, I was honored to receive the Advanced Pomona Grange Award, and in my speech I recounted many highlights of my years in 4-H. The speech was very well received, and it was eventually published in the Lucky 4-H'er Gazette and somewhere else at the request of Ellen and the ladies of Grange, as an example to help future recipients to write their own speeches. My second award came when I presented my speech at "state" at Rutgers University. My presentation was on " The Hippie Culture". Here I went all out and dressed like a 1960's Hippie with a long skirt, breads, flowers in my hair, sandles- the whole 9 yards. Along with my speech and poster, I burned incense, played folk music from that era, brought all sort of Hippie props, banners, beaded curtains, a guitar, candles, and a wooden trolly car filled with flowers and a " Haight Ashbury" street sign with a banner weaved throughout the flowers reading " If You're Going To San Francisco, Be Should To Wear Some Flowers In Your Hair", which is the Hippie National Anthem and was sang by Scott Mckenzie at the Summer of Love in 1967 in San Francisco. I had some tough competition, but I won for my room and gave Monmouth County its first win in several years. I presented this several times in this building for other clubs, as well as at the Fair that year. Some actual Hippies were at the Fair and were very happy and impressed how accurate my facts were, and how I showed them in a flattering light. It made me feel good how many people enjoyed it.
ThunderHoofs is no longer, unfortunately, but as a co-leader with Mrs. Whitehouse I do the arts and crafts with the kids ,while she does the actual teaching about animals. 
For years, 2 things we did was collected dolls and stuffed animals which I cleaned, dressed and donated to nursing homes for the residents to have a "friend" or a "baby" to provide comfort and help fend off loneliness. 4-H'ers made many generous donations to us ,and we were able to make almost 2,000 people in various facilities very happy. Unfortunately due to Covid ,we had to stop as they aren't allowed to accept donations anymore. The other community service project we did was to collect toys to donate to " Melissa's Centra State Pediatric Treasure Chest" which I started back when I was 13 or 14 to fulfill a a requirement for my Confirmation. This to had to stop for the same reason, but little patients during the years we did this were able to pick out a toy to keep, which made them very happy. 
Now my mom and I enjoy serving as judges for fair entries each year, and we spend many hours going through creative crafts, visual arts, photography,and sewing entries. This is fun and  a lot of work, and we are always amazed at what some of these kids come up with. 
I can go on and on all day with all the fun and great memories, but I'll end here on this final thought… It's been an honor and a privilege to be part of this great organization for so many years, both as a member and now a co-leader. 
​I will always be proud to say that 'I'm a 4-H'er" Thank you.